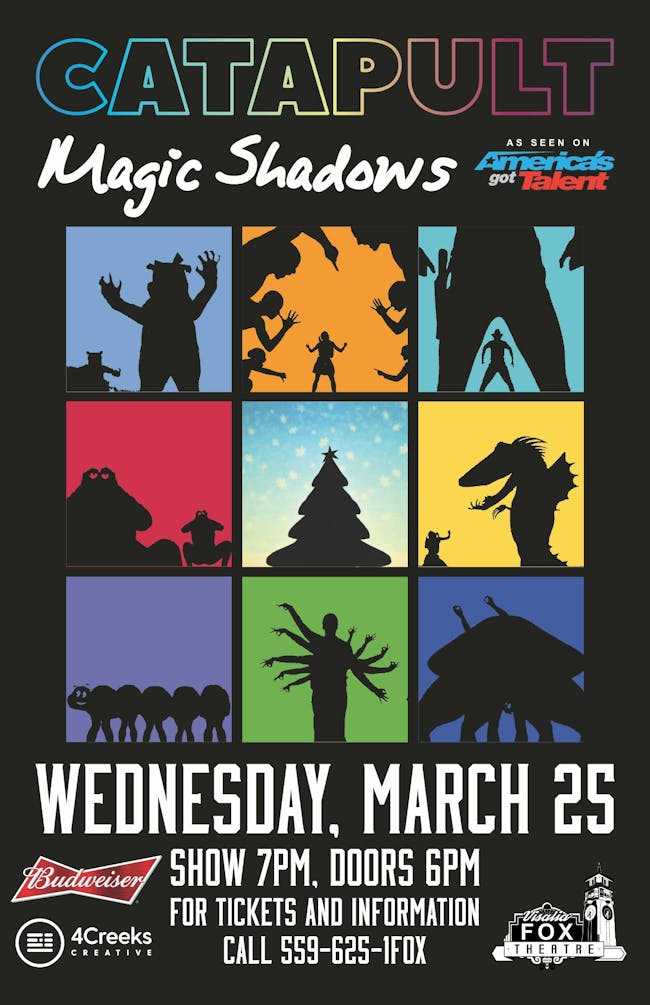 Due to the coronavirus, the March 25 Catapult show has been canceled. Refunds will be processed soon. We apologize for any inconvenience.
Catapult Entertainment presents varied shadow dance/theater works that tell stories and showcase the magic of shadow illusions.
As Howie Mandel put it: "Catapult Entertainment has been CATAPULTED"! Millions of people were amazed by the company and fell in love with our four network television presentations on the number 1 hit show America's Got Talent. Howard Stern bowed to us and called us a "million dollar act", Heidi Klum still has a crush on us and Mel B wanted our bodies! Offers to perform overwhelmed us like a tidal wave. Catapult has been touring worldwide ever since.
We have performed live for the royal family in Saudi Arabia, wowed audiences in Geneva, Stockholm, Vilnius – Lithuania, Lagos Nigeria, Monte Carlo, Lincoln Center in New York and of course Las Vegas, Nevada. In addition, Catapult has grown a devoted audience in Germany which has commissioned extensive touring for the last four years. Each year our touring there has grown; we have performed about 300 times in hundreds of cities (yes there are hundreds of cities in Germany). Italy has also become a hot spot for Catapult and we just completed our third year of touring all over the country there with more than 10,000 people flocking to see the company. Upcoming tours include dozens of states all over the US and 3 weeks of touring all over Israel.
No other company has our proprietary technology for creating color shadows and our dance "Angel Heart" is unlike anything else out there. Many major corporations have hired Catapult to represent their brand and tell their story. Here is a list of just some of them: Bridgestone Tires, Girl Scouts USA, John Deere Tractor, William Raveis Realty, Project Hope, YMCA, Pfizer Pharmaceutical, Eli Lily Pharmaceutical, Abbot Pharmaceutical, National Association of Homebuilders (the biggest convention of its kind in the world), Ultimate Software, UPS and many more.
We were recently a special guest on the television show, Italia's Got Talent and our other Television and film credits include four network appearances on America's Got Talent, several films for internet, a RAI TV special and appearances by the company's director, Adam Battelstein, on Good Morning America, The Today show, The Conan O Brien show, The Oprah Winfrey Show and the 2007 Academy Awards. There is no question that Catapult is a rising star with a bright future and the top company of its kind in the world.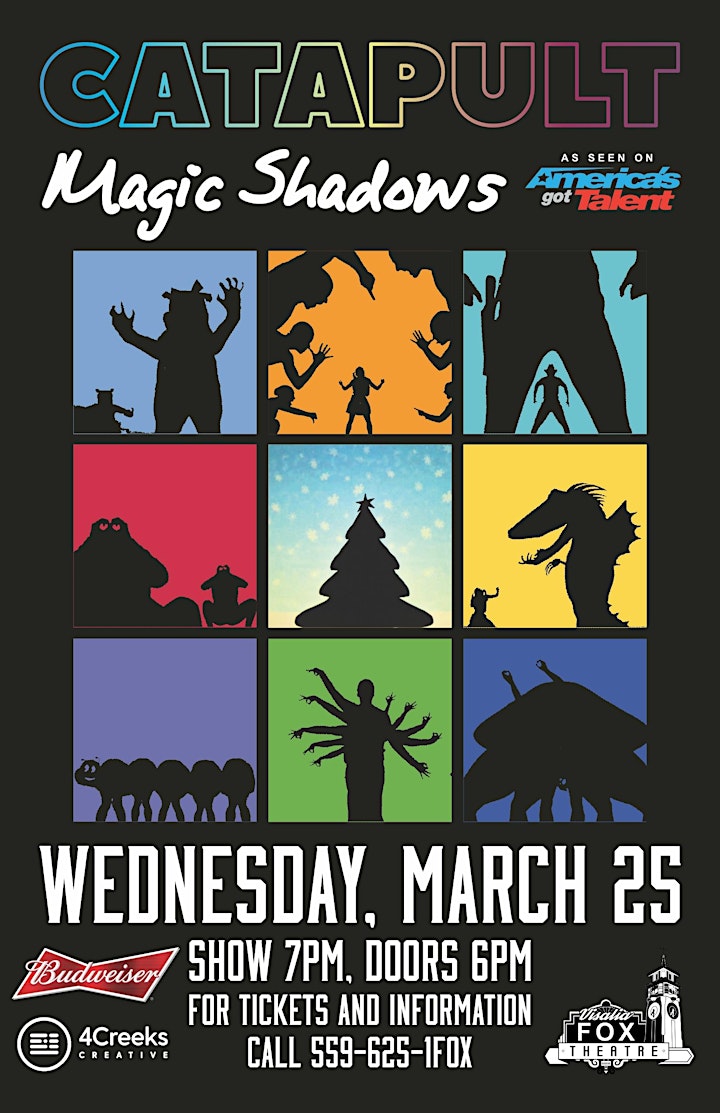 Venue Information:
Visalia Fox Theatre
300 W. Main St.
Visalia, CA, 93291